Fire Safety Services for Universities in Seattle, WA & Portland, OR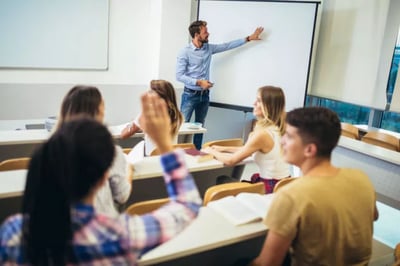 The US Fire Administration estimates that universities experience roughly 3,800 fires per year. At PSI, we strive to ensure your university is compliant with all NFPA and applicable regional fire codes. Our services are designed to help protect lives and save a property from catastrophic loss.
The Most Common Fire Threats in Seattle and Portland
There are five primary causes of university fires. These include:
Cooking with hot plates, microwaves, or portable grills. Approximately 83% of all university fires are cooking fires.
Arson.
Smoking.
Unattended candles in dorm rooms.
Overloaded power strips, extension cords, and outlets in dorms and classrooms.
Almost every university has policies in place to prevent these common causes from sparking a fire. However, fires still occur, which is why it is vital to have reliable fire alarms and suppression systems in place to slow the spread of the fire, protect lives, and protect structures from catastrophic damage.
We offer a wide range of options regarding fire and life safety systems designed to address the threats you may face in a chemistry building, student union, residential hall, library, etc. This is vital because fire and life safety systems are not one size fits all, and the installation of the wrong system in the wrong building can have devastating consequences.
PSI Provides Protection You Can Depend On
PSI helps university administrators ensure the safety of students, staff, and structures. Our goal is to prevent fires before they occur and ensure that if a fire breaks out, the protective systems operate precisely as required to alert staff and students to the danger and extinguish the fire as quickly as possible.
Our Services
System Design and Installation
Whether you are building new structures or renovating hundred-year-old buildings, the NICET IV-certified engineers on our design teams can help integrate the most modern fire monitoring and suppression technologies into your plans. We guarantee that the fire and life safety systems we design and install will comply with all applicable fire codes and safety standards.
NFPA fire codes require that all life safety systems in Seattle and Portland undergo regular inspections. We perform these inspections and provide a detailed report of each system tested. This helps ensure regulatory compliance and creates a high degree of confidence that the systems will function as designed if needed.
Sprinklers may leak, and wires within fire alarms can come loose. When they do, our teams have the skills, training, and tools required to perform any necessary maintenance and repairs. We will maintain and repair fire alarm systems, sprinklers, backflow preventers, pumps, extinguishers, security monitoring systems, and more. Our technicians are available 24/7 to perform maintenance and repair services, which means you don't have to worry about your systems being offline in a critical moment.
24-hour alarm system monitoring is vital for safety. We partner with some of the largest technology communication providers in the country. This allows you to create a layered security system that can incorporate AES mesh radio network, cellular, IP-based monitoring, or dial-up/POTS. Our team can assess your specific needs and help you identify the most effective monitoring options for your university in Seattle or Portland.
Contact PSI at 503-641-2222. It is our pleasure to tell you more about the services we offer that can help protect your university from the most common fire hazards.
CONTACT US FOR FIRE PROTECTION SERVICES FOR YOUR BUSINESS
Let's Talk About Your Business!
Get in touch with our experienced team today.
What Our Clients Say About Us

"We love using PSI! Their team is very responsive and they provide a one stop shop for all our fire testing, supply and repair needs. Their customer service and responsiveness to issues that raise keep..." Read More "We appreciate PSI's willingness to work alongside our renovation crew to minimize the interruption to our guests. Everyone I worked with on the project have all been patient, easy to work with and professional."

"PSI has become one of my most valued resources. The knowledge base and technical/troubleshooting ability has made them indispensable. They are super nice and always dependable and eager to help not matter what the ask."

"PSI has always ensured our code compliance. Their staff is extremely knowledgeable and has continually stayed on top of code requirements. PSI technicians are very professional and always responsive to our needs."

"We couldn't be happier with PSI! They provide outstanding customer service in all areas, are very quick to respond, with competitive proposals and great service. They have even provided some on-site training opportunities for some..." Read More

"I wanted to express my appreciation for the service PSI has provided us over the years. The staff has been a pivotal part in making sure we get these buildings tested correctly and efficiently. We..." Read More
Affiliates & Certifications