Fire Safety Services for Assisted Living Facilities in Seattle, WA & Portland, OR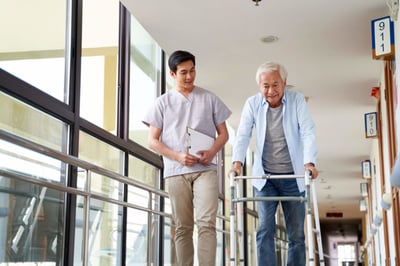 Fire safety can be a challenge in an assisted living or long-term care facility. With patients who have compromised mobility, and staff who are quite busy, early warnings and swift intervention are essential to protect the patients, staff, and property during a fire or other emergency.
At Performance Systems Integration, we can create the ideal fire safety and life safety solution for your assisted living facility. We will customize it to the needs of your building, and we can incorporate a wide range of options to meet your specifications, from fire alarms and sprinkler systems to access control, surveillance, and security systems. Our company has been serving the Pacific Northwest since 2002, providing expert fire and life safety services to businesses in Seattle, Washington, Portland, Oregon, and the surrounding areas.
To learn more about our fire safety services for assisted living facilities, call PSI today at 503.641.2222 or contact us online.
Fire & Life Safety Systems in Seattle, WA
In long-term care facilities, early detection and warning of fires is essential to the health and safety of the patients. At PSI, our NICET IV certified engineers can design and install a fire safety system that is reliable, vigilant, and ready for almost any emergency. It can be configured with features such as:
Nurse call systems
Smoke, heat, flame, and duct detectors
Advanced fire alarms that react quickly to an emergency
24/7 professional alarm monitoring for fast response times
Mobile access, monitoring, and reporting
Electrical and gas disconnects
Horns and strobes to provide clear warnings
Access control and security features
Our fire safety systems can include fire alarms, extinguishers, sprinklers, suppression systems, access controls, and more. Contact us today for a quote.
Advantages & Disadvantages of Installing Fire Protection Solutions
Since 2013, all long-term care facilities in the United States are required to have operational fire sprinkler systems. Because of the limited mobility and critical care needs of long-term care residents and those living in assisted living facilities, properly functioning fire sprinklers and other fire protection measures are essential. When it comes to the advantages of installing a broad array of fire protection systems, the benefits far outweigh the disadvantages and include:
Regulatory Compliance. Failure to install the required systems and engage in preventative maintenance programs can cause a facility to fall out of compliance. Maintaining these systems shields your facility from fines and potential refusals for Medicaid/Medicare reimbursements.
Resident Safety. Rapid detection is essential for alerting staff and residents to a fire. The faster the warning, the faster your teams can evacuate residents and take steps to halt the spread of the fire. This not only saves lives, but it also minimizes damage to the facility.
Equipment & Personal Property Protection. Whether it's a respirator, heart monitor, bedding, or other tool or fixture, long-term care facilities contain expensive equipment and residents' personal possessions. The faster your alarms sound, and the faster your fire suppression systems deploy, the less damage the equipment and personal items within your facility will suffer.
Late-Night Monitoring. Most fires in assisted living facilities don't start during regular business hours. Many fires start late at night when staffing is at a minimum. Fire alarms, emergency lighting, and the appropriate fire suppression system immediately alert staff to problems and make it easier to evacuate residents to safety. They also make it possible to direct first responders to the fire's location, which expedites their ability to extinguish the flames and provide assistance to residents in the greatest danger.
In terms of disadvantages, there is only one disadvantage of installing a fire suppression system. In particular, wet systems that rely on water to suppress the fire. When these systems deploy, they can cause water damage to computers and other electronics. They can also damage personal possessions, furniture, etc. However, compared to the protection they provide, this is a small price to pay for saving lives and protecting the structure from becoming a total loss.
Contact Performance Systems Integration to learn more about the advantages of installing reliable fire protection systems in your facility. It's our pleasure to tell you how we integrate these systems into the emergency response plans you use to keep your employees and residents safe from harm.
Maintenance & Repairs are Essential in Long-Term Care Facilities
Most insurers and regulatory agencies require preventative maintenance programs. These programs ensure that fire alarms, fire suppression systems, emergency lighting systems, and other fire protection systems are fully functional at all times.
At Performance Systems Integration, our preventative maintenance programs for nursing homes, assisted living facilities, and long-term care facilities are tailored to our clients' industry-specific needs. Not only do we thoroughly inspect, test, and repair each system, we provide thorough documentation regarding the deficiencies we detect and the repairs we perform. This ensures our clients remain compliant with all applicable regulations and helps shield them in the event a fire breaks out and leads to a lawsuit.
Contact Performance Systems Integration at 503.641.2222 to speak with our team about the fire protection and compliance services we offer in nursing homes, assisted living facilities, and long-term care facilities in Washington and Oregon. It is our pleasure to answer your questions and tell you more about the customized solutions we provide.
Our Services for Seattle & Portland Assisted Living Facilities
Whether you need some basic repairs, routine maintenance, or an all-new fire safety system for your assisted living facility, you can count on PSI for quality, professional service and repairs. Our services in the Portland area include:
Contact us today to learn how our fire and life safety systems can benefit your Portland or Seattle business.
Call Today for Fire Safety Services in Portland, OR & Seattle, WA
Are you ready to upgrade to a new, modern fire safety system? Turn to our team at Performance Systems Integration for a high-quality, professional fire safety system that is tailored to the needs of your facility.
Call us today at 503.641.2222 or contact us online to schedule a fire safety installation today.
CONTACT US FOR FIRE PROTECTION SERVICES FOR YOUR BUSINESS
Let's Talk About Your Business!
Get in touch with our experienced team today.
What Our Clients Say About Us

"We love using PSI! Their team is very responsive and they provide a one stop shop for all our fire testing, supply and repair needs. Their customer service and responsiveness to issues that raise keep..." Read More "We appreciate PSI's willingness to work alongside our renovation crew to minimize the interruption to our guests. Everyone I worked with on the project have all been patient, easy to work with and professional."

"PSI has become one of my most valued resources. The knowledge base and technical/troubleshooting ability has made them indispensable. They are super nice and always dependable and eager to help not matter what the ask."

"PSI has always ensured our code compliance. Their staff is extremely knowledgeable and has continually stayed on top of code requirements. PSI technicians are very professional and always responsive to our needs."

"We couldn't be happier with PSI! They provide outstanding customer service in all areas, are very quick to respond, with competitive proposals and great service. They have even provided some on-site training opportunities for some..." Read More

"I wanted to express my appreciation for the service PSI has provided us over the years. The staff has been a pivotal part in making sure we get these buildings tested correctly and efficiently. We..." Read More
Affiliates & Certifications