Emergency Communication Enhancement
Is Your Building Up to Code?
To ensure all occupants of buildings remain safe, it is critical to have a reliable system in place that allows first responders to communicate without interruption in service. In many U.S. cities public safety codes and mandates require facilities to be equipped with emergency responder communication systems that enable first responders to communicate in any area of any building.
In-building communication systems are designed to meet these mandates and provide continuous two-way radio coverage. This can be done with the help of Public Safety DAS (Distributed Antenna System) also called ERRC (Emergency Responder Radio Coverage).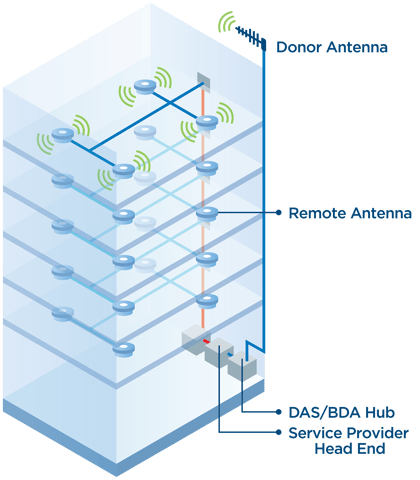 Public Safety DAS Explained
Public Safety DAS is a series of antennas throughout a building or structure that provide enhanced two-way radio service, evenly distributing the amplified signals. This system ensures that first responders can seamlessly communicate within the building and with those outside without interruption in service during an emergency.
Since this communication has its own radio antennae system, it is not impacted if telephone lines or cellular towers fail, which can happen during emergencies or natural disasters.
Steps to a Code-Compliant Public Safety DAS
PSI has partnered with Edwards to offer a powerful range of signal-boosting solutions that will enable communication in critical coverage zones such as basements, fire escape stairwells, and elevator lobbies, and avoid radio frequency interruption during emergency situations.
Thanks to a strategic resell agreement with ADRF, Edwards's suite of public safety DAS meet or exceed the latest National Fire Protection Association (NFPA) and International Fire Code codes, UL standards, and Federal Communications Commission (FCC) rules. The company's repeaters and battery backups were the first to be listed and certified to UL 2524, Second Edition, the most rigorous standard for emergency in-building communication.
In order to enhance your emergency communication systems, PSI can inspect your existing DAS system to make sure it will work in an emergency and keep you compliant. If you are adding or updating an existing system, PSI can design and install a system that meets your compliance and safety needs.
During the design and installation process, the PSI team will walk you through the following steps for a code-compliant Public Safety DAS:
Consultation - PSI will work with you to determine where coverage is needed, what the local mandates are, and ultimately provide a turn-key proposal for the project.
AHJ Approval - Once PSI has tailored a design to your building, our team will receive approval from the local authority having jurisdiction to ensure we are 100% compliant.
Client Approval - The PSI deployment team will sit down with you to go over all the relevant details and timeline to make sure we are not delaying your building's certificate of occupancy.
Annual Inspections - Our DAS inspection experts can provide annual testing to ensure your systems provide reliable emergency communication and comply with NFPA Standard 1221.
Contact PSI today to enhance your systems with Public Safety DAS to ensure mission-critical communication is uninterrupted in every part of your building. Our experienced team will help you navigate the code requirements and will provide you with systems you can rely on.
CONTACT US TO SCHEDULE A FREE SITE SURVEY
Let's Talk About Your Business!
Get in touch with our experienced team today.
What Our Clients Say About Us

"We love using PSI! Their team is very responsive and they provide a one stop shop for all our fire testing, supply and repair needs. Their customer service and responsiveness to issues that raise keep..." Read More "We appreciate PSI's willingness to work alongside our renovation crew to minimize the interruption to our guests. Everyone I worked with on the project have all been patient, easy to work with and professional."

"PSI has become one of my most valued resources. The knowledge base and technical/troubleshooting ability has made them indispensable. They are super nice and always dependable and eager to help not matter what the ask."

"PSI has always ensured our code compliance. Their staff is extremely knowledgeable and has continually stayed on top of code requirements. PSI technicians are very professional and always responsive to our needs."

"We couldn't be happier with PSI! They provide outstanding customer service in all areas, are very quick to respond, with competitive proposals and great service. They have even provided some on-site training opportunities for some..." Read More

"I wanted to express my appreciation for the service PSI has provided us over the years. The staff has been a pivotal part in making sure we get these buildings tested correctly and efficiently. We..." Read More
Affiliates & Certifications