Upgrade to PerformanceNet—our fast, reliable Fire Alarm Monitoring System.
When seconds count and lives depend on it, getting the fire department on-site as quickly as possible is the most critical part of mitigating damage due to a fire. Your fire alarm monitoring system is what makes that happen.
PerformanceNet*—PSI's privately owned and operated fire alarm monitoring network—is the most reliable and fastest communication option available in the fire alarm industry. Our network uses NFPA-compliant and UL-Listed mesh radio technology which will never sunset or become obsolete.
Facility managers and building owners rely on PerformanceNet to keep people and properties safe. In addition to the network having built-in redundancies in case of failures or power losses, and our experienced team monitoring the network 24/7—there are many excellent reasons to migrate your network to PerformanceNet.
Fastest Transmission Speeds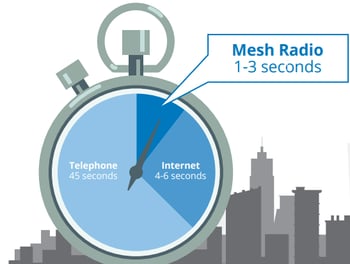 Our networks provide the quickest response time possible delivering critical alarm signals in just 1-3 seconds compared to telephone at 45 seconds or even longer.
Multiple paths provide the shortest, most reliable route possible for fire alarm signals to get through.
Reliable Technology
Mesh radio technology will never sunset or become obsolete like AMPs, VoIP, or POTS (Plain Old Telephone Services). Mesh networks also operate with two or more communication paths linking a location to your Central Monitoring Station.
In the event of extreme conditions such as earthquakes, flooding, hurricanes, and severe weather storms, Radio Frequency signals are still transmitted. When other alarm notification alternatives fail during power outages, mesh network radio signals keep operations running at peak performance.
At PSI, we own and operate our private networks with complete control of services end-to-end.
Replace Costly Phone Lines
Last year saw the end of POTS lines, which poses a big challenge for devices and systems engineered to use a phone line for monitoring and signaling. The analog equipment that POTS lines use is now outdated, and telecom companies have reduced support for this infrastructure.
Because of this, maintaining POTS line infrastructure is now a costly business. If you still use POTS, you can expect to pay significantly more each month. Now is the time to transition to a solution that meets current standards and is better for your budget.
URsecure App Access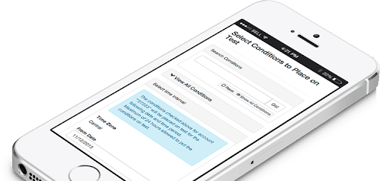 The URsecure app is a one-click mobile control and remote monitoring solution that gives customers unprecedented control over fire alarms that are monitored by EMERgency24.
All PSI customers subscribed to monitoring services also enjoy access to the URSecure app. Users can securely log in to their accounts from nearly anywhere, giving instant access to a wide range of fire alarm data, schedules, and configuration options such as:
View multiple accounts with one login
View account histories and alarm activations
Make temporary changes to vital settings
Secure access to your EMERgency24 accounts from almost anywhere
Instant access to system status, reports, and alarm activations
Easy adjustments to business hours and schedules
Simple call list modifications for fast responses during an emergency
Regular system tests on your schedule
Quick identification of system problems
Upgrade your network today. Contact the PSI team by completing the form on this page.
*PerformanceNet is currently not available in all PSI service areas.
Let's Talk About Your Business!
Get in touch with our experienced team today.
What Our Clients Say About Us

"We love using PSI! Their team is very responsive and they provide a one stop shop for all our fire testing, supply and repair needs. Their customer service and responsiveness to issues that raise keep..." Read More "We appreciate PSI's willingness to work alongside our renovation crew to minimize the interruption to our guests. Everyone I worked with on the project have all been patient, easy to work with and professional."

"PSI has become one of my most valued resources. The knowledge base and technical/troubleshooting ability has made them indispensable. They are super nice and always dependable and eager to help not matter what the ask."

"PSI has always ensured our code compliance. Their staff is extremely knowledgeable and has continually stayed on top of code requirements. PSI technicians are very professional and always responsive to our needs."

"We couldn't be happier with PSI! They provide outstanding customer service in all areas, are very quick to respond, with competitive proposals and great service. They have even provided some on-site training opportunities for some..." Read More

"I wanted to express my appreciation for the service PSI has provided us over the years. The staff has been a pivotal part in making sure we get these buildings tested correctly and efficiently. We..." Read More
Affiliates & Certifications