When Jack Frost Arrives, Will Your Dry Sprinkler Systems Be Ready?
Posted on:
October 04, 2023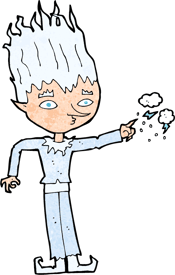 Last year Jack Frost had some fun in the Pacific Northwest, resulting in an unusually cold and snowy winter. The freezing temperatures wreaked havoc on dry fire sprinkler systems across the region that had accumulated water and condensation in pipes.
Dry sprinkler systems are commonly used in areas where the pipes might be exposed to freezing temperatures, such as unheated warehouses, parking garages, or industrial facilities. Draining the low points in these systems before the weather gets cold is essential to prevent any residual water from freezing and expanding—which could lead to pipes leaking, cracking, or bursting.
Learn more about dry sprinkler systems, how to identify if you have one, and all the reasons it's necessary to drain low points in your system before Jack Frost comes to town.
At PSI, our factory-trained and NICET-certified technicians provide comprehensive fire and life safety services—monitoring, testing and inspecting, system maintenance, installations, and code compliance consultations—all under one agreement. Contact us today to schedule your free consultation.
Dry Sprinkler Systems
Dry sprinkler pipes are typically found in exposed and uninsulated areas such as parking garages. They are pressurized with air that holds the water back from the main water line. When a sprinkler is activated, the air is released, which allows the water to flow through the pipes and out the sprinkler head.
Dry pipes are monitored by a fire alarm system via air pressure switches that will alert you in the case of a leak in the system when the pressure is unusually low, however, moisture and water may go undetected. Throughout the year water vapor builds up inside the sprinkler piping, this vapor condenses and collects on the walls of the pipes.
The system's piping is designed to drain to various low-point drains (see image) through the building. This water collects at the low points and will freeze if exposed to freezing temperatures. This water can go undetected by electronic monitoring and visual inspection until it's too late.
To prepare for winter, a fire sprinkler technician will check and drain the low points of the system where drains are located to dispose of the condensation.
Why Winterizing Dry Sprinkler Systems is Essential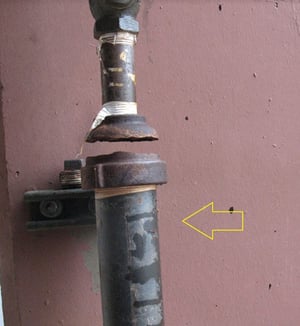 Preventing Freezing
As mentioned above, if the system is not properly winterized, residual water left in the pipes can freeze and expand, leading to pipe bursts, valve failures, and water damage (see image) when the system is activated. Draining the low points helps prevent such damage, ensuring the continued protection of people and property.
Maintaining System Reliability
In case of a fire, the reliability of the sprinkler system is crucial. If the low points are not drained and freezing occurs, it may not operate as intended, resulting in delayed or ineffective fire suppression, and potential legal liability if injuries or property damage occur. Proper winterization helps ensure the system remains in working condition, keeping your occupants and properties safe during the cold months.
Preventing Costly Repairs
Repairing a frozen or damaged dry sprinkler system can be costly and time-consuming. Pipes, valves, and other components may need to be replaced, and the facility could suffer significant water damage.
Winterization is also about preserving and protecting the long-term integrity of the sprinkler system, extending its lifespan and reducing the need for frequent repairs. Draining the low points in your system is a cost-effective preventive measure to avoid these expenses.
Compliance with Regulations
NFPA 25, CH- 13.4.4.3 requires dry sprinkler systems to be drained after each operation of the system, before the onset of freezing weather conditions, and thereafter as needed. Failing to comply with this regulation can result in regulatory violations and potential fines.
PSI Can Winterize Your Systems*
Winterizing dry sprinkler systems in autumn is a proactive measure to ensure the reliability, functionality, and safety of the system during cold weather.
Don't let Jack Frost sneak up on you. Act now to prevent extensive damage and costly repairs to both your sprinkler system and your building. Contact PSI today and let us help you winterize your systems before those temperatures drop below freezing.
* Draining the low points in dry sprinkler systems does not guarantee freeze prevention. PSI service does not add anti-freeze to the system.