Edwards ConnectedSafety+
Posted on:
October 23, 2023
ConnectedSafety+, a new Software as a Service solution from Edwards, provides a secure, remote connection to Edwards EST4 fire alarm and intelligent safety systems. Technicians, admins, and facility managers can now connect to their EST4 fire alarm panel from anywhere and are notified in real-time of events.
Take a closer look at the Edwards ConnectedSafety+ features that are designed to help your system safeguard people and property, while also providing a custom approach to management to your EST4 fire alarm panel.
Want to learn more about the fire alarm system in your building? Join us for our live webinar on December 14 to learn the specifics—parts, operation, maintenance, and care. Register today.
Product Features & Benefits
Through a single dashboard, facility managers and building owners now have the ability to monitor the entire installed base, access reports and analytics per site, and track predictive maintenance down to the device level.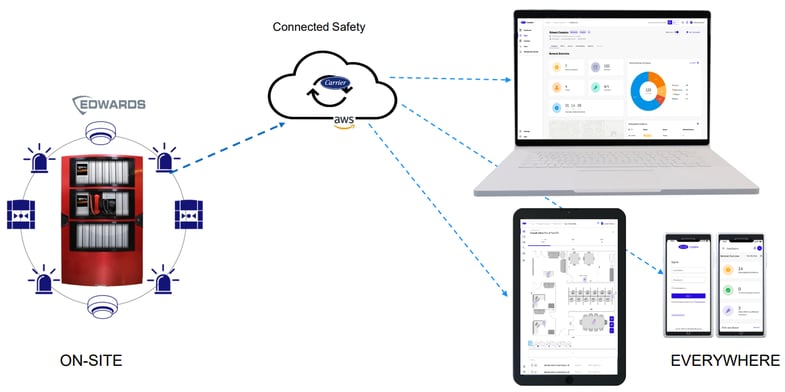 Product features and benefits include:
Knowing the status of each EST4 fire alarm panel in each site at all times
Staying informed everywhere through detailed, configurable event notifications in real-time
Gaining insight through reports and predictive maintenance
Easy access to all device information during inspection
Quick and easy way to access compliance reports
Connected asset inventory and history
Predictive life cycle costs and forecasting
Reduced false alarms of EST4 fire alarm system
Peace of mind that each site is safe and compliant


Contact PSI Today
Learn more about how the Edwards ConnectedSafety+ solution will help you more efficiently manage and maintain your EST4 fire alarm system so that it can do its job: safeguarding people and property.
If you're ready to equip your facility with the latest in fire and life safety, we're ready to help. Contact PSI for a free demo or to learn more.