Distributed Antenna Systems Enforcement - Straight from an AHJ
Posted on:
August 25, 2023
The team at PSI spoke with an Authority Having Jurisdiction (AHJ) within the radio entity in Multnomah County to learn more about upcoming code changes that will impact Distributed Antenna Systems (DAS) and where DAS lands in the priority for inspections in 2023.
Join our one-hour live webinar, Distributed Antenna Systems 101, happening on September 21 to learn more about DAS and the mandates that a building provides adequate coverage as outlined by the IFC and NFPA. Register today!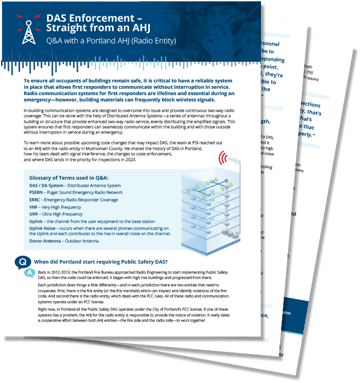 "While historically DAS inspections haven't been the top priority, that's changing. Fire Marshals are actively making sure that DA systems are working properly," states the Portland-based AHJ. "It's critical to have coverage in large buildings because without DAS in place, the emergency responders will not be able to communicate in every part of the building."
Distributed Antenna Systems are a series of antennas throughout a structure that provide enhanced two-way radio service, evenly distributing the amplified signals. DAS prevents building materials such as concrete walls from blocking wireless signals. DAS provides emergency responders with continuous two-way radio coverage within the building and with those outside without any interruption in service.
The AHJ continues. "The most critical tool for first responders is 100% available communication. Emergency personnel will most likely be in your building responding to a call at some point, and without DAS, they're not going to be able to effectively serve the building tenants."
Read the full conversation with the AHJ - download your free copy here.