Demystifying the 5-Year Fire Sprinkler Inspection
Posted on:
August 31, 2021
You hope you never need your fire sprinkler system. But if you do need it, you want to make sure it works. However, if your systems don't receive the proper fire sprinkler inspection and maintenance, there's the possibility they may not function properly or at all. Therefore the 5-year service is essential. But it often sneaks up when least expected.
Let us help you prepare now for this mandated inspection. This post will walk you through the inspection process, highlight the NFPA 5-year codes, and answer your most pressing questions, such as:
What exactly is the 5-year fire sprinkler inspection?

What are the requirements?

What do technicians do onsite?
Let's get started demystifying the 5-year service inspection.
At PSI, our factory-trained and NICET-certified technicians provide comprehensive fire and life safety services—monitoring, testing and inspecting, system maintenance, installations, and code compliance consultations—all under one agreement. Contact us today to schedule your free consultation.
What Is the 5-Year Fire Sprinkler Inspection?
The 5-year internal inspection is an NFPA-mandated inspection examining the insides of your fire sprinklers' piping. The examination must be carried out a minimum of every 5 years. The requirements do not differ by state—however, every  jurisdiction is a little different.
The Authority Having Jurisdiction's (also known as AHJ) goal is to keep the loss of life to zero and the property damage due to fire to a minimum. While completing an inspection, they could be looking for exterior rusting, pitting of fire sprinkler piping, and more. The AHJ will typically request an NFPA 25 report that lists the results of each system's 5-year inspection, including visual evidence of the internal condition of piping. These reports reveal the severity of potential obstruction problems and if the obstruction is isolated or has a wider impact on the community.
Why Is This Inspection Necessary?
The 5-year fire sprinkler inspection is crucial since water sitting in steel pipes creates rust. This rust may accumulate in such a fashion that it could cause buildup that, in return, causes blockage in the pipe.
In galvanized pipes, the water introduced into the piping system in conjunction with the air that resides can create rusting and pitting internally. Microbiologically influenced corrosion causes blockage and pinhole leaks. Additionally, rocks and other debris may enter the system.
Having a 5-year internal inspection improves the safety of the property by resolving any internal problems to prevent a fire sprinkler head failure during an emergency.
What Do Technicians Do On-Site?
The technician onsite will first deliver an initial assessment. This includes opening the flushing connection at one of the main ends and removing a sprinkler tower from one end of a branch line. If foreign material is obstructing the pipe or sprinklers, then there will be a more comprehensive investigation. If additional obstructions are found, a complete flushing program will be conducted to remove all foreign materials.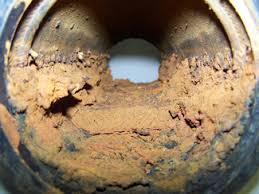 There are times, however, when flushing the system will not resolve the issue. A case in point happened during a recent inspection. A PSI technician noticed excessive rust and several rocks coming from the pipe while doing the main drain test. The system was not due for internal inspection until the next year, but red flags existed. After an internal pipe inspection, he found the rust accumulations at the end of the 4" main were over three-quarters of the diameter and existed several feet into the depth of the pipe. The resolution was to replace the infected sections to avoid bursting pipes.
In addition to the assessment and resolution of any issues, technicians also maintain thorough records to keep up with preventative maintenance. It is vital to understand the critical points to investigate, how to recognize the signs to take the investigation to a deeper level, and the importance of accurate documentation—both written and photographed.
Will This Inspection Affect The Building Tenants?
These inspections will not affect the water in the building. Only the water to the fire sprinkler system will be shut off, not the domestic water. The technician will also bypass the FACP to prevent the fire alarm from going off.
What Are the Specific NFPA Requirements for the 5-Year Inspection?
The specific NFPA codes outlining the 5-year fire sprinkler inspection requirements are as follows:
Gauge Inspection
5.3.2.1 Gauges shall be replaced or tested every five years by comparison with a calibrated gauge.
Standpipe Flow Test
6.3.1.1* A flow test shall be conducted every 5 years on all automatic standpipe systems to verify that the required flow and pressure are available at the hydraulically most remote hose valve outlet(s) while flowing the standpipe system demand.
6.3.1.1.1 Where a flow test of the hydraulically most remote outlet(s) is not practical, the authority having jurisdiction shall be consulted for the appropriate location for the test.
6.3.1.1.2 Pressure gauges maintained in accordance with 8.3.3.5.2 shall be provided for the test.
6.3.1.2* Class I and Class III standpipe system demand shall include 500 gpm (1892 L/min) for the most remote standpipe and 250 gpm (946 L/min) for each additional standpipe until the total system demand is simultaneously flowing.
6.3.1.2.1* The 250 gpm (946 L/min) required from each additional Class I and Class III standpipe shall be allowed to be flowed from the most convenient hose valve on that standpipe.
6.3.1.2.2* Where the 250 gpm (946 L/min) cannot be flowed from each additional Class I and Class III standpipe, the authority having jurisdiction shall determine where the additional flow can be taken.
6.3.1.3 Class II standpipe system demand shall include 100 gpm (379 L/min) for the most remote standpipe connection.
6.3.1.4 The standpipe system demand shall be based on the design criteria in effect at the time of the installation.
6.3.1.4.1 Where the standpipe system demand cannot be determined, the authority having jurisdiction shall determine the standpipe system demand.
6.3.1.4.2 The actual test method(s) and performance criteria shall be discussed in advance with the authority having jurisdiction.
Standpipe Hydrostatic Test
6.3.2.1* Hydrostatic tests of not less than 200 psi (13.8 bar) pressure for 2 hours, or at 50 psi (3.4 bar) in excess of the maximum pressure, where maximum pressure is in excess of 150 psi (10.3 bar), shall be conducted every 5 years on manual standpipes.
Check Valve Inspection
13.4.2.1 Inspection. Valves shall be inspected internally every five years to verify that all components operate correctly, move freely, and are in good condition.
Internal Inspection of Piping
14.2.1 Except as discussed in 14.2.1.1 and 14.2.1.4, an inspection of piping and branch line conditions shall be conducted every five years by opening a flushing connection at the end of one main and by removing a sprinkler toward the end of one branch line to inspect for the presence of foreign organic and inorganic material.
14.2.1.1 Alternative nondestructive examination methods shall be permitted.
14.2.1.2 Tubercules or slime, if found, shall be tested for indications of microbiologically influenced corrosion (MIC).
14.2.1.3* If the presence of sufficient foreign organic or inorganic material is found to obstruct pipe or sprinklers, an obstruction investigation shall be conducted as described in Section 14.3.
14.2.1.4 Non-metallic pipe shall not be required to be inspected internally
14.2.2* In buildings with multiple wet pipe systems, every other system shall have an internal piping inspection every five years, as described in 14.2.1.
14.2.2.2 If the presence of foreign organic and/or inorganic material is found in any system in a building during the 5-year internal inspection of piping, all systems shall have an internal inspection.
Turn to The Pros at Performance Systems Integration
As a PSI customer, you can be confident that your 5-year fire sprinkler inspection will be completed thoroughly with the documentation and photos provided after the inspection. Our technicians are professionally trained and guaranteed to perform the tasks according to the guidance of the NFPA Standards.
The consequence of not completing the 5-year fire sprinkler inspection could lead to a blocked sprinkler head during a real fire emergency resulting in disaster. Do not let your 5-year internal inspection sneak up on you.
Contact Performance Systems Integration today to schedule your fire sprinkler inspection.