Distributed Antenna Systems 101 Webinar On-Demand
What you need to know about DAS—as required by the fire code—to ensure emergency responders can communicate in every part of your building.
To ensure all occupants of your buildings remain safe, it is critical to have a reliable system in place that allows emergency responders to communicate without interruption—however, building materials can frequently block wireless signals.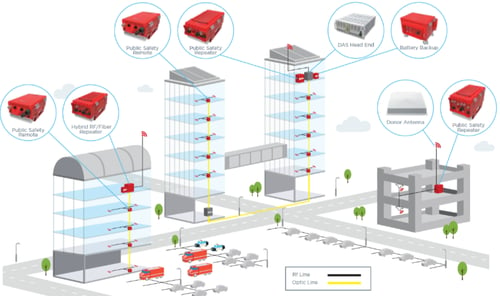 In-building communication systems are designed to overcome this issue and provide continuous two-way radio coverage.
This can be done with DAS (Distributed Antenna System)—a series of antennas throughout a building that provides enhanced two-way radio service, evenly distributing the amplified signals. DAS ensures that first responders can communicate within the building and with those outside without interruption in service.
Watch our one-hour tutorial to learn more about DAS and the mandates that a building provides adequate coverage as outlined by the IFC and NFPA regulations.
After this on-demand webinar, you will understand:
What DAS is and the increasing prioritization of enforcement
The hardware necessary for a DAS installation
Types of pre-engineered fire suppression systems and the hazards they protect
General code requirements to be compliant
Inspection and testing process
Virtual Training Presenters

Michael Jones is a Sales Engineer with ADRF. Michael has partnered with customers to help them keep up with the changing industry and analyze what is needed for their systems for over 16 years.

Jason Overleese is an Account Executive with PSI. Jason has been partnering with clients to help them navigate Fire and Life Safety in their buildings for nearly 8 years.

James Edon is the Pacific Northwest District Manager at Edwards (EST) and Kidde Fire Alarm (a Carrier Company) at Edwards Safety.
COMPLETE THIS FORM FOR ACCESS TO THE ON-DEMAND WEBINAR